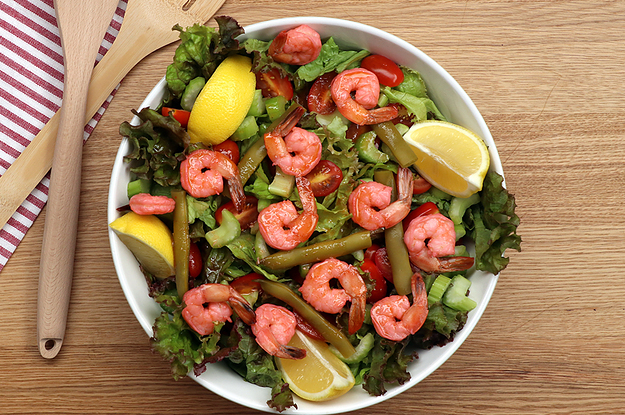 Servings: 2-4
Prep Time: 12 minutes
Cook Time: 8-10 minutes
Assembly Time: 3 minutes
INGREDIENTS
Poached Shrimp
3 cups Clamato juice
2 tablespoons celery or seasoned salt
1 tablespoon prepared horseradish
12 shrimp, raw with shell removed
Salad Dressing
¼ cup Clamato juice
¼ cup olive oil
¼ teaspoon celery or seasoned salt
¼ teaspoon of Worcestershire sauce
½ teaspoon of hot sauce
1 teaspoon prepared horseradish
Salad
1 head of leafy lettuce
2 stalks of celery, sliced on a bias
1 cup grape tomatoes, cut in half
6 pickled green beans, cut in half
4 wedges of lemon
Optional Toppings
Green Olives
Bacon Bits
Avocado Slices
PREPARATION
1. In a medium sized pot, combine 3 cups of Clamato Juice, 2 tablespoons of celery or season salt and 1 tablespoon of horseradish and bring everything to a boil.
2. Add 12 shrimp to the pot and turn off the heat.
3. Allow the shrimp to cook for 4 minutes.
4. Drain the shrimp and transfer them immediately to an ice bath to stop the cooking process.
5. Keep shrimp in the fridge until ready to serve.
6. In a small mason jar, combine ¼ cup Clamato juice, ¼ cup olive oil, ¼ teaspoon of celery or seasoned salt, ¼ teaspoon of Worcestershire sauce, ½ teaspoon of hot sauce and 1 teaspoon prepared horseradish. 
7. Tighten the lid and shake to combine.
8.In a large salad bowl arrange your leafy lettuce, celery, tomatoes, pickled green beans and lemon wedges.
9. Top the salad with chilled poached shrimp and about half of the homemade dressing.
9. If you like olives, bacon bits or avocado you can add those to the salad as well.
Source: www.buzzfeed.com